In Their Own Words, Titanic
(e-book) Original survivor accounts of the Titanic and commentary by Pellegrino
Charles Pellegrino's books on the R.M.S. Titanic were, in part, based upon letters, diaries and interviews with the survivors and their families, as well as communications with the families of those who died. The late Walter Lord gathered a huge collection of written records from Titanic survivors and later conducted interviews and exchanged letters with them.
If you follow the link In Their Own Words, you will be directed to an e-book in progress. In order to facilitate historians and interested individuals better understanding of the people of the Titanic, interviews (previously unpublished), original letters, diaries, and family memoirs will be transcribed and uploaded to the net over the next few years, with comments by Pellegrino.
Please come back often to see who we have added.
Please feel free to contact us if you have a particular interest in a particular Titanic personality and we will try to find information for you.
Titanic: Voices from the Deep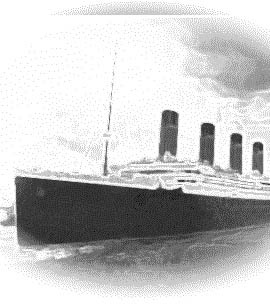 End-user agreement for "In Their Own Words, Titanic"
(1) I will not use or make available these materials for commercial purposes without first obtaining the written consent of the owners/encoders: Timegate, Inc.;
(2) I will observe any special restrictions that may govern the use of particular texts or bodies of material as stipulated in the documentation notes;
(3) I will control access to these materials and require any other party to whom the recipient supplies any portion of this material to observe these conditions;
(4) When making formal public reference to the materials, to acknowledge appropriately the source as "The Lord/Pellegrino Communications Files;"
(5) I will report promptly to webmaster@charlespellegrino.com' any significant errors discovered in these materials.